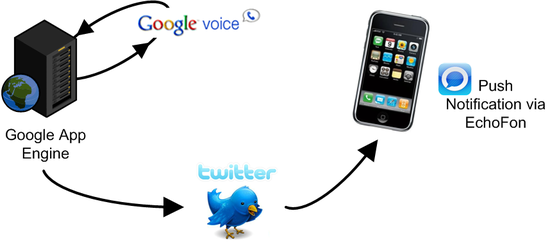 I really like
Google Voice
, but Apple refuses to accept it in the
iPhone
's
App Store
. Google provides a web-based
Google Voice
- the version just released today (1/26) looks pretty much like the Google Voice iPhone application that was rejected from the store. The problem is that the web page is
pull
-only - and without
push
you don't get notified of new text messages or voicemails - you have to actually visit the site. I set out to try to fix this, and came up with a solution that works really well and is completely legitimate -- no Apple approval required!
The summary is this - my
Google App Engine
application polls Google Voice every 15-20 seconds looking for new text messages. If a new text message is found, then the application sends a direct message containing the sender of the text message and the message itself to my
Twitter
account from a Twitter account that I set up for this purpose. I have EchoFon running on my phone, which does Push notifications (I needed the $4.99 Pro version of EchoFon to do this), so that when a new DM arrives my phone vibrates and rings.
The end effect is that when I get texts on my Google Voice account, my phone acts almost exactly like it would if I had received a text message from
AT&T
. I've timed the round trip and it's less than 90 seconds on average. I can respond to the message using the web-based version of Google Voice by clicking a link included with the message.
Because this uses Twitter, there's nothing Apple or AT&T can deny from the App Store unless they agree to deny all Push applications (instead of Twitter, these could be Facebook messages, emails, fake point-of-interest near your location) - so, you don't need approval to run it!
I'll update this post with details of this solution in a few days so you can get free Google Voice push on your phone too!